The SUPAERO Class of 1982 is proud to have organized the School's first Class Gift in 2018. The challenge was to collect a maximum of donations among the alumni of the SUPAERO class of 1982 in order to support a project of the School: the purchase of the twin-engine Vulcanair P68 Observer… And it was also an opportunity to celebrate the 35th anniversary of the class of '82 in 2017!
Like all our alumni, the SUPAERO 82 have shown their attachment to the School, their spirit of solidarity and their willingness to support the students and teacher-researchers of ISAE-SUPAERO. Thank you!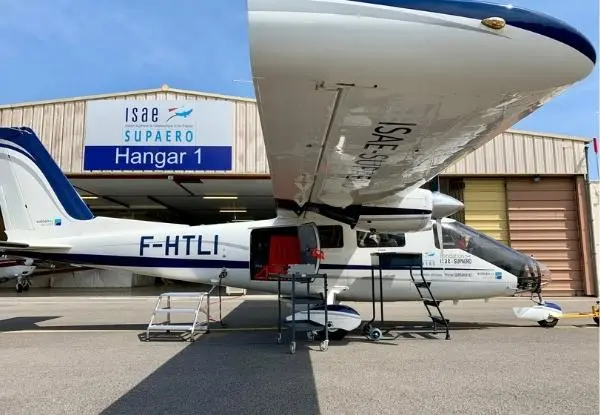 The donations collected contributed to the financing of 14% of the Vulcanair P68 Observer flying platform, a twin-engine aircraft equipped with a "glass cockpit". This new equipment will be used for teaching and research in flight mechanics, human factors and droning.
Learn more about the flying platform!
Launch date: September 08, 2016
Closing date: June 22, 2018

surveillance of the Stade Toulousain
"In remembrance of the amazing background the school has given us and that has stayed with us all our lives, we support the school and its students and give wings to their passion!"
AUDOLY Christian
BERRÉE Dominique
BESSE Paul
BIOJOUX Eric
BOBRINSKY Nicolas
BOUTRY Philippe
BUSSON Anne
CAZEAUX Eric
CHABANAS-MAGUIN Hélène
CHARVET Philippe
COTÉ François
COULHON Bertrand
CREBASSOL Philippe
DALIN Jean-Baptiste
DE ROQUEFEUIL Emmanuel
DESBLED Stéphane
DROZ Jan-Flavien
DUBOSCQ Pierre
DUFOUR Patrick
FLOURENS Alain
GARAT Jeanne
GENTILI Dominique
GERMAN Jean-Pierre
GLENAT Bertrand
GUEDRA-DEGEORGES Didier
GUERMONPREZ Vincent
HASS Jean-François
HUYSSEUNE Joseph
LARGER Nicolas
LECOMTE Hervé
LECUREUX Yves
LUGHERINI Philippe
MATHIEU-GOUDIER Dominique
MOSSER Pierre-Etienne
NAHABETIAN Françoise
ORDONNEAU Gérard
PARDESSUS Thierry
PAUCHARD Hervé
PETIT Emmanuel-Jean
POMMELLET Pierre-Eric
POINSIGNON Vincent
POULAIN Eric
PRATS Olivier
PRATS Véronique
ROUDIL Daniel
TEJEDOR Patrick
VALADE Jean-Michel
VOIRON Thierry
ZARROUATI Guy
ZARROUATI Olivier
Thank you for your generosity and your interest in this SUPAERO 82 class gift!