Closing of the Class Gift 1981 / 2011 / 2001 during the Open Day
The classes of 1981 and 2011 closed their Class Gift on Saturday, October 9 during the ISAE-SUPAERO Open Day.
It was a great opportunity to get together and to present the cheques of 3,265 euros, 13,340 euros and 11,550 euros (class of 2001) to the Institute.
As the Open House was just beginning, some of the alumni who took part in the Class Gift were meeting with the first years who had just graduated. On the program of this meeting organized on campus, exchanges, questions, the creation of a link that is important for both alumni and students whose schooling has just begun. Five of them from the classes of 1981 and 2011 took part in the question and answer session with the students.
In the middle of the day, the donors who were able to participate met again, this time in the presence of the Director General of ISAE-SUPAERO, Olivier Lesbre, the Director of Engineering Training, Caroline Bérard, and the Director of Development of the Foundation, Agnès Trincal.
A meeting that signed the closing of the Class Gift of these two promotions with the thanks of the project leader, Caroline Bérard and those of Olivier Lesbre.
As Caroline Bérard reminds us "There are really strong questions from students about a range of subjects and there is the question of how we accompany them in relation to all this. […] What we want to touch, we don't necessarily touch in a lecture hall. The idea is to take the class and isolate ourselves in a place for 2 or 3 days because it is when we live together that things emerge. […] Over 3 days, students will be able to come and question their place as engineers, as citizens, and confront this with questions of sustainable development. [Throughout these 3 days, we will bring in speakers, we will organize debates on various themes, we will be able to meet local producers. [The donations will allow us to come and test another educational format as well as to set up a prototype to see what it gives in terms of format, organization, what the students get out of it…"
To the classes of 1981 & 2011: "We do not exclude the idea, if you are interested, to participate, to come and exchange and contribute to this program that we wish to set up. It is with pleasure that we can integrate you.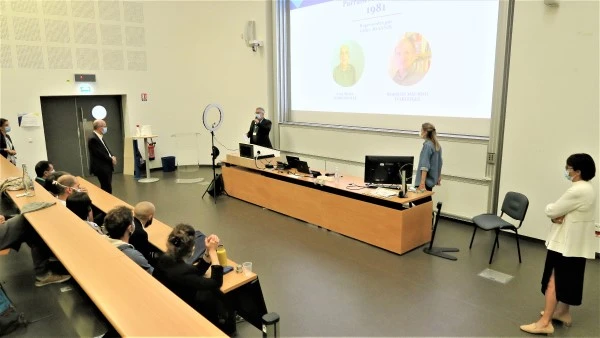 The patrons of the class of 1981, Jean-Pierre Dargentolle and Benoît De Maupeou, could not be there, so they were represented by their classmate Gilles Joannis who reminds us of the importance of "To set up a training program adapted to today's world, so that students are equipped for this world, which is indeed changing.. The sponsors wanted to leave a video message for their fellow students and future beneficiaries of this program.
"When the Foundation asked me to be the sponsor of our graduation gift, I accepted for two main reasons. Firstly, I think it is a duty for alumni to help young graduates to benefit from an excellent education. Secondly, the project to be financed is of major importance for the future. Sustainable development imposes new constraints that every engineer must be aware of in order to create and design in compliance with these new requirements […] " Jean-Pierre Dargentolle, S 1981

"I was very happy to learn that ISAE was setting up a new training module related to environmental management and sustainable development. So happy because I am convinced that future engineers and in particular those from ISAE-SUPAERO, will have to take up challenges and will have an active part in the management of the energy transition in particular in the design of future aeronautical, space and also all complex systems on Earth." Benoît De Maupeou, S 1981
The sponsor of the S 2011 class, Julie Dequaire, then spoke about the course of this year's collection.
"The Class Gift project has, I think, challenged us as a class because 10 years ago there was no such questioning. We think it's great that the students are starting to think about it and discuss it as soon as they arrive at the school. We also wanted to thank the students because it allowed us to bond as a class around a project and it would be a pleasure to be able to follow the developments of this project. I think there's a lot of positive feedback to be heard about what students are doing these days, so that it inspires us in our paths as well."
Julie Dequaire, S 2011
Olivier Lesbre: "The new graduating classes are much more aware of and mobilized around the themes of sustainable development and environmental issues. All of these elements have led us to revisit our sustainable development strategy in 2019/2020, leading to a new roadmap called "Horizons" which will be released in 2021. It is indeed the students we are training now who are and will be at the heart of this effort for the ecological transition."
The 2001 Class Gift was officially closed on October 30, 2021.
20 donors mobilized for the class of 1981!
14 donors mobilized for the class of 2011!
25 donors mobilized for the class of 2001!
who joined the project by reorienting its Class Gift*.
*The Class Gift 2001 that was launched on October 14, 2017 had the initial ambition to participate in the purchase of the Soyuz MS-03 capsule that carried Thomas Pesquet (S 2001) on his Promixa mission. Unfortunately, the project was put on hold for reasons beyond the Foundation's control, relating to negotiations with Russia. The proposal made to the donors of the class of 2001; to redirect their donations in order to join the Class Gift in progress in 2021: the one concerning the sustainable development training at ISAE-SUPAERO.
Thank you to the entire class for their patience and involvement despite the changes related to this Class Gift!
A TOTAL OF 28,155 EUROS WAS COLLECTED BY ALL THREE CLASSES TO FINANCE THE FIRST EXPERIMENTATION OF AN EXTRACURRICULAR TRAINING COURSE ON SUSTAINABLE DEVELOPMENT FOR FIRST YEARS.