Renewal of the CASAC Chair
First signed in 2016, the "CASAC" research and training chair, signed by Dassault Aviation, ISAE-SUPAERO and its Foundation, aims to rethink the relationship between crews and the systems used in aviation.
While the first results are promising, the two aeronautics players are renewing their partnership for another three years!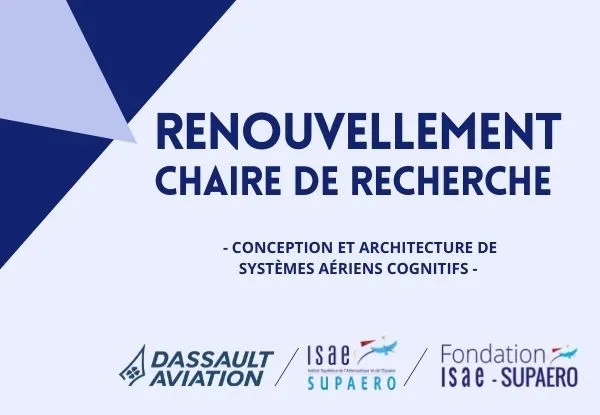 "Design and architecture of cognitive air systems
This chair, whose main research areas are neuroergonomics, decision-making autonomy of automated systems and systems engineering, aims to study various aspects of collaboration between man and machine. The challenge is to make civil and military air operations safer, more robust and more efficient, while guaranteeing complete control for crews.
The systems considered are often operated in complex situations; they therefore have advanced automatisms to carry out their missions in a more autonomous way, always under human control, by relying on decision-making algorithms from the field ofartificial intelligence.
The machine, the operators' teammate
"The main focus of this chair is the development of Innovative technologies that help to qualify the interaction between human and machine to know if the cooperation is effective and to automatically decide what needs to be maintained, suggested or changed to promote team performance "explains Caroline Chanel, head of the chair at ISAE-SUPAERO.
>> LEARN MORE ABOUT THE RENEWAL OF THE CASAC RESEARCH CHAIR
ABOUT DASSAULT AVIATION
With more than 10,000 military and civil aircraft delivered to more than 90 countries over the past century (including 2,500 Falcons), Dassault Aviation has recognized expertise and experience in the design, development, sale and support of all types of aircraft, from the Rafale fighter to the Falcon family of high-end business jets, including military drones and space systems. In 2021, Dassault Aviation's revenues amounted to 7.2 billion euros. The Group has 12,400 employees.