On October 19, 2022, the ISAE-SUPAERO Foundation organized for the 6th consecutive year a meeting between the representatives of the sponsoring companies and the scholarship holders within the ISAE-SUPAERO campus. 19 international students, beneficiaries of scholarships for excellence granted in the framework of a chair or a specific program with the School, were present at this meeting.
From 1:30 pm, the 19 scholarship students attended the speeches of the representatives of the sponsoring companies (Airbus, MBDA, GIFAS, ISAE-SUPAERO Foundation).
Unfortunately, some students could not attend due to exams.
This afternoon was a great opportunity for GIFAS, Airbus, MBDA and the Foundation to share a friendly moment and to exchange on the career paths of each of the international students in MSc and Engineering programs at ISAE-SUPAERO. Coming from 10 different nationalities, the scholarship holders were able to discuss their future plans.
Renaud Bellais, Institutional Advisor at MBDA,

Jerome Noyer, Director of Human Resources and Communication at LIEBHERR-AEROSPACE, came as a representative of GIFAS,
Pierre Passot, R&T Strategic partnerships France at AIRBUS and holder of the CEDAR Chair for the research part,
Jean-Louis Marcé, Secretary of the ISAE-SUPAERO Foundation for the excellence scholarships it awards each year.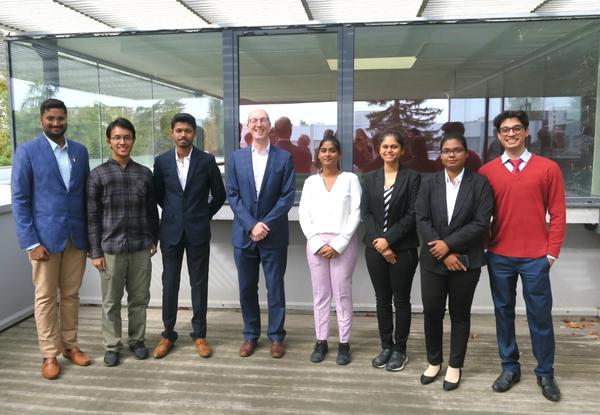 The beneficiaries of the ISAE-SUPAERO Foundation Excellence Grants
with Jean-Louis Marcé
MBDA Excellence Scholarship Recipients
with Renaud Bellais
Recipients of the Airbus Excellence Scholarships
with Pierre Passot
Agnès Trincal, Jérôme Noyer, Olvier Lesbre, Renaud Bellais,
Pierre Passot and Jean-Louis Marcé
What is the ISAE-SUPAERO Excellence Scholarship Program?
This program was born with the aim of supporting the international attractiveness of ISAE-SUPAERO, by attracting and welcoming the best foreign students to the Institute. Once selected, the students receive a grant from the companies that have signed a chair with the Institute and the Foundation, allowing them to finance their training in engineering or Master's degree. Thanks to the generosity of its donors, the ISAE-SUPAERO Foundation also awards each year its own scholarships for excellence to international students wishing to study at ISAE-SUPAERO.
In 2022, 24 students will receive a scholarship for excellence from corporate sponsors or the Foundation
Exchanges between Pierre Passot and the beneficiaries
Exchanges between Renaud Bellais and the beneficiaries
Exchanges between Jean-Louis Marcé, Agnès Trincal and the beneficiaries