6 prizes awarded during the ISAE-SUPAERO Awards evening
On December 2, 2022, during the ISAE-SUPAERO Prize Giving Evening, the Foundation awarded 4 thesis prizes, as well as for the first year, the Jean Pierson Prize, established in 2022.
The next day, during the Engineering Graduation Ceremony, a graduating student also received the Paul Alain Lamy Award.
Congratulations to the 6 winners of the ISAE-SUPAERO Foundation 2022 awards!
📷 Photos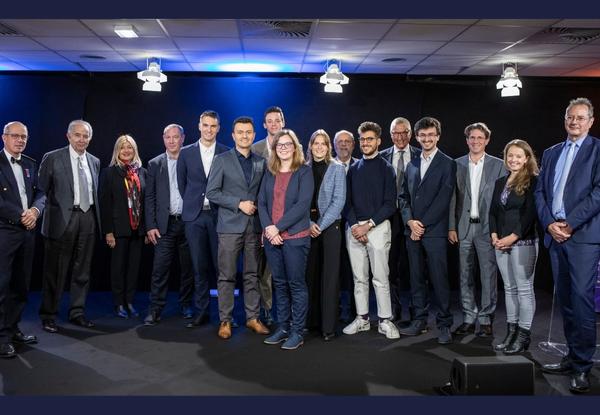 The Jean Pierson Prize, an exceptional prize in honor of Jean Pierson (1940-2021), who graduated from ISAE-SUPAERO in 1963, was created within ISAE-SUPAERO in order to reward each year a student of ISAE-SUPAERO.
This brand new prize, implemented in 2022 by the ISAE-SUPAERO Foundation, pays tribute to Jean Pierson, a man with a particularly inspiring personality. It is thanks to the initiative and the donations of friends, former collaborators and family members of Jean Pierson as well as the support of companies in which he worked with ardor and panache, that this prize was created.
Following the nomination of 17 candidates by teachers, other students or teachers of internships, they were able to submit their applications which were examined by the jury. After pre-selection of four candidates and videoconference discussions with each of them, the jury deliberated to select only one.
Anne-Alice Faure, a 2022 graduate of the MGPIE Specialized Master's program, has been chosen to receive the Jean Pierson Prize of 20,000 euros.

Congratulations to the first winner of this award!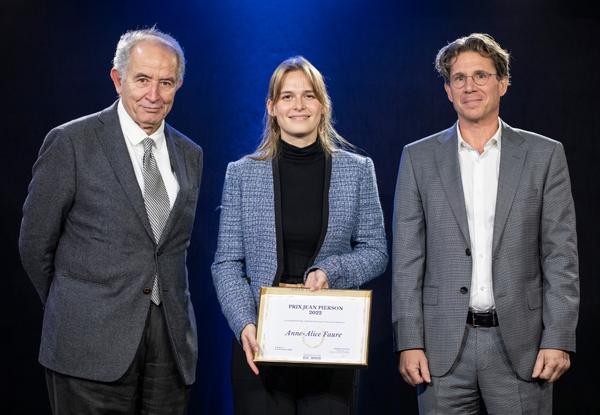 Nordine Ouabdesselam, Ann-Alice Faure and Thierry Pierson
Four laureates received on Friday, December 2, a Thesis Prize of 1,000 euros, to reward them for the quality of their work during their doctoral years. Each of them has detailed in a few words the subject of their thesis and the recorded versions can be found on the Foundation's Youtube channel here.
Congratulations to
Jawhar Chebbi whose thesis topic was: "Control of under-actuated multirotor UAVs in disturbed aerodynamic conditions: contribution to the robustification of control laws in the context of an industrial application".
His thesis in video
Cecily Sunday whose thesis topic was: "Landing, sinking and rolling on the surface of small bodies of the solar system".Cecily having been excused for the prize-giving, it is Naomi Murdoch, Planetologist at ISAE-SUPAERO who received her prize.
His thesis in video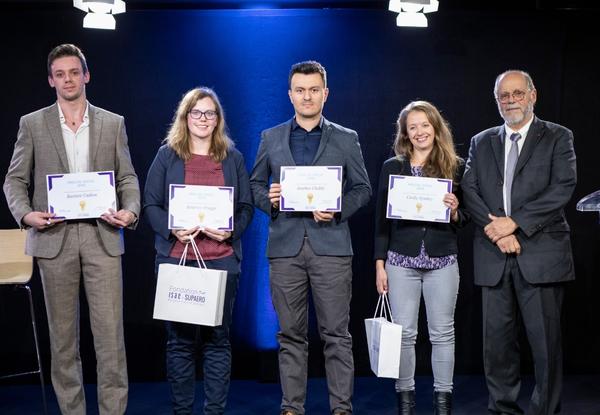 Bastien Cadiou, Beatrice Fragge, Jawhar Chebbi, Naomi Murdoch and Marc Pircher
Amandine CORTIER, a third-year engineering student graduating in 2022, receives the Paul Alain Lamy award for her commitment throughout her studies. With energy and conviction, Amandine has promoted student community life by being the General Secretary of the Students' Office and also by getting involved in various clubs such as the Sailing, Gliding and Rugby Clubs. Convinced that climate issues must be tackled at all levels, she has also been involved in Supaero 4 Earth for two years. It was on this occasion that she organized a forum on transition jobs on campus and thus collected the testimony of more than 15 Alumni, creating links with the ISAE-SUPAERO community. Throughout her schooling, Amandine has also been involved in the ISAE-SUPAERO OSE Program, using her time to raise awareness of climate change and the Climate Fresco among middle and high school students. Now an alumni, Amandine decided to continue the adventure with OSEingé by giving her time to promote girls in engineering schools.
Congratulations to Amandine Cortier for this award.
Created in memory of Paul Alain Lamy (S 1995), who died prematurely in 2002, this prize is financed by his partner and friend, Florent Moïse and his wife Andréa.