A 6 month internship at Dassault Aircraft Services Willmington Corp
With the support of the ISAE-SUPAERO Foundation, Gabriel did his internship at Dassault Aircraft Services Willmington Corp for 6 months in order to carry out retrofits. Thanks to this experience, he knows that this is the job he is passionate about and that he will do his end-of-study internship in this field.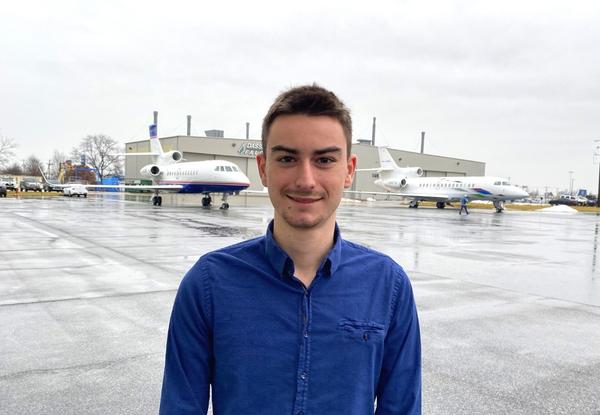 Why did you choose Dassautlt Aircraft Services?
I have always been passionate about aeronautical maintenance. Following meetings, visits and internships, I knew that I wanted to do an internship in this field when I arrived at ISAE-SUPAERO. In my freshman year, I learned that an alumnus of the school offered internships on a recurring basis at Dassault Aircraft Services in Wilmington.
Having heard good feedback, I decided to do a gap year with the aim of doing this internship and discovering the jobs, not related to aircraft design, but those that allow to maintain and improve the already existing aircraft.
What is the purpose of your internship?
The subject of the internship was to help the team of engineers who are in charge of improving the Falcon following requests from customers, certification authorities or simply their own initiatives. This is commonly referred to as a retrofit. This internship had three main objectives for me: to discover the world of business aviation and retrofitting, another culture that I only knew through films and reports, and to improve my English.
However, the health situation complicated things at the beginning for several reasons: the first one is the fact that I only knew a few days before the departure whether I could leave or not. The second is the fact that the company has not hosted any interns for more than a year. The first few days were therefore a little more complicated than expected and the help of the Foundation allowed me to ease the financial burden of the first few weeks. Indeed, still in the middle of the covid period, it took me more than a month to get my Social Security Number which unblocks the obtaining of a driver's license as well as the internship bonus. There were no interns ahead of me to help me find a place to live or to buy a car, unlike what was usually done. However, my colleagues were very helpful and did everything to make sure that my new life in America started well: they indicated the best places to live, helped me to buy a car, explained the administrative procedures…
And culturally, what did you think of the United States of America?
Culturally, I discovered as soon as I got off the plane that I knew almost nothing about American culture except for a few stereotypes, not necessarily always unfounded. My biggest surprise was the friendliness and the way Americans are welcoming. I walked out of the Philadelphia airport without knowing a single person in the country (except for my tutor who I had talked to on the phone) and very quickly I met some great people who were always helpful.
I discovered that ice cubes were almost mandatory, that Americans like to have a neat lawn, that the pick up is not a myth, that houses were built differently and that even toilets had a different mechanism. After living in Old New Castle for a month (city names can sometimes be atypical), I definitely settled in Newark, DE because this is where the University of Delaware is located. I was able to discover the university and student life thanks to my roommates, meet people my age and see what my life could have been like if I had studied on the other side of the Atlantic. Being integrated into American university life was a real plus during my stay. Another highlight of my integration was meeting an American family from Pennsylvania who adopted me and allowed me to discover the daily life of a normal family, introducing me to certain parts of this culture that I would not have had access to. The father was a soccer coach, needless to say – American – and so I was able to participate in my first tailgating, which consists in gathering all together, before, during and after a game to play, discuss, eat and drink. Each family comes with its tent, barbecue and coolers (a pick up is very efficient to transport all this) at 10 AM for a game at 1 PM and stays almost until nightfall, all in a warm and sharing atmosphere.
Traveling and discovering the American East has been a large majority of my free time, and this has been made possible by the Foundation. Although small, Delaware and its surroundings (Maryland, Pennsylvania, New Jersey) are full of unusual places to visit such as the beaches, especially Rehoboth Beach, the White Clay Natural Park, Longwood Garden, the Brandywine Valley, Old New Castle and its colonial style, Lancaster and its Amish, Atlantic city and its casinos among many others. Of course Philadelphia was the closest big city and the one I visited the most, its history, architecture, museums and parks make it a very pleasant city. I've been to Washington twice, the National Mall as well as the White House and Capitol are icons to see. A visit to the Steven F. Udvar-Hazy Center in Virginia near Washington, D.C. is a must for any ISAE-SUPAERO student. And I wasn't disappointed, it was probably my favorite museum of my stay. New York City is also a must-see city, and even more so for the New Year. Four days allowed me to visit the most important monuments and to meet up with my SUPAERO friends in Canada. I also went to help a colleague at the airport on some weekends to install systems to make smoke on SOCATA Epsilons imported to the United States.
What were the most memorable moments during your stay?
It's hard for me to rank the highlights of my stay, but I have to admit that some events will remain forever engraved in my memory: I had the chance to participate in the "world famous rubber chicken drop contest" in Easton, MD. Some of my colleagues were participating as pilots in this airshow, and one of the pilots lost his co-pilot to open the canopy in flight and throw the plastic chicken at the target, and I had the great fortune to be able to take the co-pilot's seat in a Nanchang CJ-6 and participate in an airshow not as a visitor, but on the other side of the canopy.
My colleagues also took me to the shooting range to shoot pistols and semi-automatics, it was both scary and at the same time, we all had a great time.
From a personal point of view, this internship brought me a lot and made me grow. For the first time in my life, I found myself in an environment where I didn't know anyone and didn't have the help of my family or friends, where I had to start from scratch: opening a bank account, getting the administrative papers, buying a car, managing the various insurances, etc. It was very formative and allowed me to become more independent, as well as to know how to manage situations that I had never been confronted with. Two weeks after I bought my car someone crashed it and left in a hit and run. So I learned how to deal with this kind of incident with the police and the insurance, how to repair my car, helped by my colleagues and to go through the process of homologation of a car again. Since this is the United States, it even appeared in the city newspaper.
This internship also allowed me to greatly improve my English, in fact I only spoke French with my tutor (a former ISAE-SUPAERO student) when we were together, but the rest of the time everything was in English, and outside of work I didn't see any French people for 6 months, except in New York city. I also learned that you don't need to have perfect English to communicate, and that the desire to communicate allows you to learn much faster than in class.
How did your internship go?
Discovering the American culture was of course attractive, but it is first the subject of the internship that made me decide to do my internship in the United States. It was my first internship as an engineer, and my first real introduction to the working world. Dassault Aircraft Services was a company with about 150 employees when I arrived, I joined a team of 7 engineers in charge of developing improvements on the Falcon, including 3 mechanical engineers, 2 electrical engineers and 2 engineers in charge of projects. The premises include three hangars for eighteen aircraft and a paint shop for three aircraft.
My tasks consisted mainly in making preliminary studies in order to realize estimates, as well as writing technical instructions. It was a pleasant surprise to discover that the tasks I was given were instructive, interesting, rewarding and varied, whereas in many internships the tasks assigned to the interns are not always the most exciting. I would like to thank my tutor and my colleagues for taking the time to train me in order to carry out more complex but more interesting tasks later on. If I had to keep only one thing from this stay, it would be this; indeed, to realize rewarding tasks and where one learns every day changes the life. Every day was different and I probably learned more in those 6 months of internship than I did in 6 months of class.
Add to that amazing colleagues and an incredible work environment, and I ended up enjoying going to work as much as I did visiting the great cities of the East Coast. The biggest project I was assigned was to carry out the technical instruction to install the new Head Up Display FalconEye developed by Dassault Aviation in partnership with Elbit on older aircraft not designed to accommodate it, especially Falcon 2000 delivered before 2015. This consisted in studying all the modifications of Dassault Aviation applied in order to make an aircraft compatible with this new equipment and to write the instructions in order to realize them. For example, the nose and the entire cockpit ceiling had to be extensively modified. This work is carried out in close collaboration with the technicians and Dassault Aviation. I also had the opportunity to spend some time with colleagues from neighboring offices such as the aftermarket or the structure office to discover their jobs, which allowed me to expand my vision on the life cycle of aircraft. This internship was also an opportunity for me to discover the functioning of an American company, which can be a bit different from European ones. The decision has been made to close the Dassault Aircraft Services center in Wilmington. It was enlightening from an outside perspective but also difficult to see colleagues leave their workplaces after years with DAS Wilmington.
THE testimony of Gabriel Lucas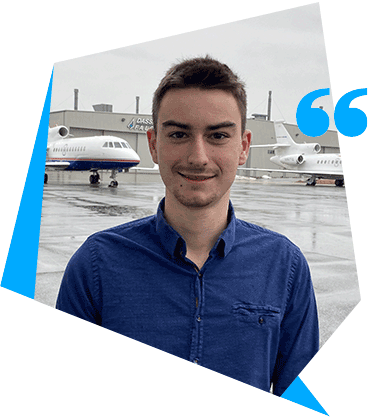 This internship, supported by the Foundation, gave me a clearer idea of my career path.
I discovered that I want to do retrofitting because it is interesting, varied, and has everything I am looking for. In addition to allowing me to discover what I wanted to do for the next few years, it also allowed me to discover companies I didn't know existed and to get to know people in the sector. This internship also allowed me to know where I wanted to do my end-of-study internship, i.e. at Tag Maintenance Services, which has just been bought by Dassault Aviation. I want to make Falcon retrofitting my job, and this is completely due to my internship supported by the Foundation. My internship was also an opportunity to renew links between Dassault Aircraft Services and SUPAERO after the rotation was stopped due to the health situation. This internship has been an incredible opportunity for me, and I hope that others will be able to take advantage of it for as long as possible, in Wilmington or in the other centers. If I had the opportunity to do this internship again, I wouldn't hesitate for a second.
In my life I had two incredible opportunities: the possibility to join SUPAERO and to do this internship, supported by the ISAE-SUPAERO Foundation, which launched me into the professional world in the best possible way.
I would like to thank the Foundation and all the alumni for their financial support and for taking the time to help us find our way.