Class Gift 2020-2000-1980
For the first time, it is not one class but three classes that have joined together to participate in the financing of an ambitious project, the "Drone Mermoz". In line with current environmental issues, this project reflects the motivation of three generations to invest in a low-carbon aeronautics.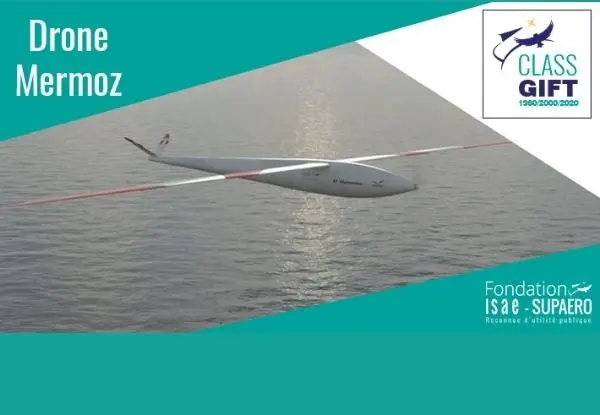 Designing and building a 100% electric drone capable of crossing the South Atlantic: a world first
Fly a 25Kg drone over 3000 Km following the Aeropostale line: from Saint Louis in Senegal to Natal in Brazil
To be based on three technologies, the use of hydrogen, photovoltaic and biomimicry
Developed by Jean-Marc Moschetta and his team at ISAE-SUPAERO, the 100% electric drone project called "Drone Mermoz" is part of the Institute's priority research activities. The prototype is made in partnership with H3 Dynamic.
Once the demonstrator is completed, the objective will be to make it cross the South Atlantic over 3,000 km following the Aeropostale route, a world first for a drone of this size and integrating these three technologies: biomimetics, hydrogen fuel cells and photovoltaics.
Launch date:October 10, 2019
Closing date: October 10, 2020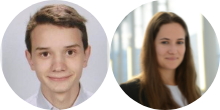 Julie Devaux & Rémy Chatel
Sponsors of the Class of 2020
"It is with great pleasure that we got involved in this project which we really enjoyed. I thank the Alumni Association, the school and the Foundation for allowing us to get in touch with other classes, to be in contact with people from different backgrounds, it is very promising for us."

Rémi Canton
Sponsor of the class of 2000
"A big thank you to Jean-Marc Moschetta for having proposed this beautiful project. Thank you to the donors of the Class of 2000 for supporting this project which is close to our hearts, for the school, its students, but also for the former students who are now parents and who want future generations to be able to benefit as we did."
Damien Robert, S 2000
Laurent Rasmont &
Jean-Bernard Debrune
Sponsors of the Class of 1980
"Aviation needs to rethink its future. There is a great need for innovation, for research and that is why I am happy to have supported this project. The operational phase and the flight are close, the goal of this Class Gift was to finance operational steps, positions that represent 30k euros, we are close, so congratulations again to all!"
Thanks to the amount collected, the three promotions have partially financed a first LH2 tank for ground tests and a 200L filling station.
2020
Jean-Louis MARCE
Aida MESA
Promos during the aperitif-concert
Anonymous (5)
2000
Hassan AOUISSE
SAMUEL Audart
Grégoire BAGGIO
Hervé BERENGER
Guillaume Bodineau
Rémi Canton
Antoine Chaux
Stéphane Cote
Franck DELAPLACE
Olivier DEL BUCCHIA
Fabien DORNIER
Emmanuel DREVON
Matthieu Guyot
Bich HA DUONG
Guillaume HUBERT
Arnaud Laffitte
Nicolas LECERF
Cedric Leconte
Florent Minaire
Christophe Poujol
François Pouzolz
Damien ROBERT
Nicolas SIMI
Jean VAN UFFELEN
Sébastien VERLINDE
1980
François BOUCHY
Denis BOYER
Michèle BOYER
François BRETONNEL
Christine CLIQUE
Jean-Bernard DEBRUNE
Vaea DEBRUNE
Philippe GARDIEN
Philippe GUINCHARD
Patrice GRY
Denis HENNION
Jacques HUMBERTCLAUDE
Christian LAZARO
Xavier LE RASLE
Serge PARA
Philippe PARDESSUS
François PINTO
Laurent POLAC
Marc POSTAL
Laurent RASMONT
Pierre STOLTZ
Patrick TRAMIER
Elisabeth TREMBLAY
Anonymous (3)
_
Xavier BRAULT (Alumni of the Ecole de l'Air)