Disability awareness day with OSE ISAE-SUPAERO
Thursday, March 31, 2022 was the day of awareness of disability organized by the program of equal opportunities OSE ISAE-SUPAERO on the campus of CREPS in Toulouse.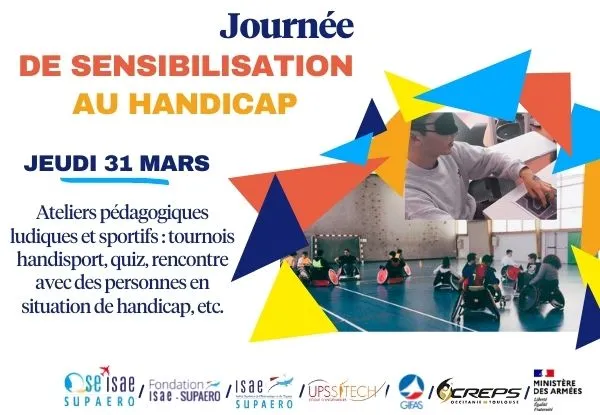 A DAY DEDICATED TO RAISING AWARENESS OF DISABILITY AMONG MIDDLE AND HIGH SCHOOL STUDENTS WITH MANY SPORTS ACTIVITIES AND WORKSHOPS TO DISCOVER
At 9am, the first students were welcomed at the CREPS in Toulouse (Centre de Ressources, d'Expertise et de Performance Sportive). After being divided into groups, they were able to attend 4 different workshops including sign language initiation, cecifoot (blind soccer), para-judo, biathlon and quizzes on disability.
In the afternoon it was the turn of the high school students to participate in the workshops, but also in the different conferences. Maxime Valet, bronze medalist at the 2016 Rio de Janeiro Paralympic Games (para fencing) introduced the conference by sharing his journey and motivation. Then Omar Bouyoucef, gold medalist at the Lillehammer Paralympic Games in Norway – 1994 spoke next, as well as Yoann Le Lamer, a doctoral student at ISAE-SUPAERO with a disability.
At 3pm, the students were able to start the workshops. On the program: cecifoot, biatlhon with Omar Bouyoucef, wheelchair rugby, wheelchair basketball and initiation to sign language.
106
schoolchildren present
15 student volunteers on the day
9
partner colleges and high schools