ESA Class of 2022… 3 selected alumni
On November 23, 2022, ESA unveiled the European Astronaut Class of 2022. 3 ISAE SUPAERO alumni are among those selected: Sophie Adenot as a career astronaut, and Anthea Comellini and Arnaud Prost as reserve astronauts.
Two of them are invested in the ISAE-SUPAERO Equal Opportunities Program and one is a beneficiary of the Foundation.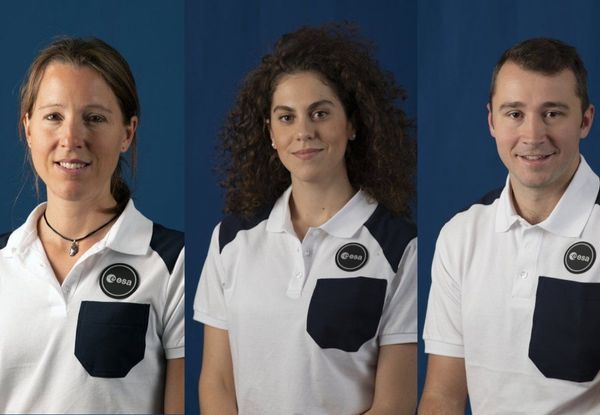 Each year, ISAE-SUPAERO trains about 1000 international students in the space field, all courses and years combined, and graduates about 200. Among the students who attended the school are three of the astronauts selected by ESA for the class of 2022: Sophie Adenot (career astronaut), Anthea Comellini and Arnaud Prost (reserve astronauts).
This is a great source of pride for the Institute, for the Foundation and for the ISAE-SUPAERO OSE Program, in which Sophie Adenot is involved as godmother and Arnaud Prost participates in the actions.
Read thearticle from ISAE-SUPAERO
▶️ Sophie Adenot graduated in 2004 with an engineering degree from ISAE-SUPAERO, where she specialized in the flight dynamics of spacecraft and aircraft; a training completed by a Master of Science in Human Factors Engineering at the Massachusetts Institute of Technology. Posted to the French Defense Procurement Agency (DGA) from 2019 to 2022, she became the first French woman experimental test pilot on helicopters in the DGA Flight Test expertise center.
She is a sponsor of the ISAE-SUPAERO OSE Program and has participated in many events.
Learn more in video: June 11, 2022 / Sophie Adenot Program Sponsor
▶️ Anthea Evelina Comellini obtained her engineering degree at the Institute in 2017, which she continued, still at ISAE-SUPAERO, with a thesis "Vision-based autonomous rendezvous with non-cooperative targets", in cooperation with Thales Alenia Space.
Beneficiary of the ISAE-SUPAERO Foundation, Anthea went to Montreal for 4 months in 2020 to finish her thesis, read her testimony read.
▶️ Arnaud Prost, a 2015 graduate of École Polytechnique, chose ISAE-SUPAERO as his application school and graduated in 2017. Since 2020, he has been a weapons engineer and pilot at the DGA.
Very involved with the OSE ISAE-SUPAERO team, he has participated in many events, some of which you can find here.
Their journeys are great examples of success for our students, and for young people in general. Sophie Adenot is also godmother, alongside Thomas Pesquet, of the OSE l'ISAE-SUPAERO equal opportunity program. Created in 2006 and awarded the Cordées de la Réussite label in 2009, this program is supported by the Groupement des industries françaises aéronautiques et spatiales (GIFAS) and the ISAE-SUPAERO Foundation. 30 schools are partners, and each year, more than 900 secondary school students are supported by the tutoring of ISAE-SUPAERO students and alumni, and scientific, technical, cultural and sports workshops.