New Horizons Day at ISAE-SUPAERO
The "New Horizons: Objective Earth!" Day is a day dedicated to students from partner schools in the Toulouse Academy who are part of the Sustainable Development Pathway of the ISAE-SUPAERO Equal Opportunities Program. It takes place on Thursday, April 21 on the ISAE-SUPAERO campus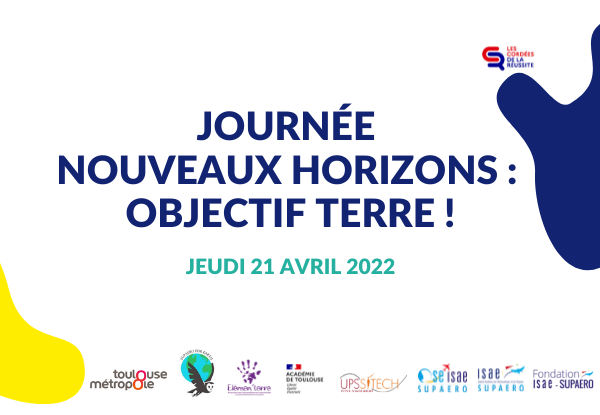 While in recent years the sensitivity of students to environmental issues has become significant, OSE ISAE-SUPAERO offers them to intervene in colleges and high schools to raise awareness of environmental issues and act at their level.
Thus, the objectives of the "Our Planet" program are to make young people aware of environmental issues, to develop the capacity for action and mobilization of schools, and to seek a multiplier effect through education that prepares future citizens to adopt responsible behaviors in accordance with the values of the Republic.
While the first part of the course took place from September to April by the animation of Fresco of the Climate in several establishments. The "New Horizons: Target Earth" day is the second part of the event.
To find the news on the ISAE-SUPAERO website:
it's here !
SECOND STAGE OF THE JOURNEY: MEETINGS AND WORKSHOPS
WITH THE "NEW HORIZONS: GOAL EARTH!" DAY.
Thursday was a day that allowed us to welcome
130 students from the Toulouse Academy
. Among the partner establishments are the Emile Zola college, the Hubertine Auclert college, the Vauquelin college, the Bagatelle high school, the Claude Nougaro college, the Pierre de Fermat college, the Jean Jaurès college, the George Sand college and the Jolimont college.
During this day, many workshops and meetings took place.
Course of the day
9:30am-9:45am
Arrival of students and introduction of the day with speeches
– Cécile Latournerie, Director of the OSE Student Social Opening program at ISAE-SUPAERO
– Christophe Escartin, National Education Inspector and Head of the Academic Mission for Education for Sustainable Development
– Dominique Fassou, Head of National Education of the Cité Educative du Grand Mirail
– Lydie Lescarmontier, glaciologist – climate change educator at the Office for Climate Education
9h45-10h30
Quiz conference proposed by Nicolas Gourdain & Jérôme Fontane
10:30-11:30 a.m.
Respiring Encounters: portraits and presentation of initiatives
Interventions built around the following 3 questions:
"Who am I?" / "What do I care about? – Today and tomorrow" / "How do I act on my scale?"
Speakers:
– Hugo Mugnier, Sustainable Development Manager at ISAE-SUPAERO
– Simon Kieffer, final year student at ISAE-SUPAERO – Environment Certificate
– Najib Mahfoudhi, Interministerial Coordinator of the DOM-Water Plan Engineer of bridges, waters and forests
11:30 a.m.-12:00 p.m.
Presentation of the projects carried out by the schools
– Jean Jaurès College in Colomiers – Beehive Project
– Claude Nougaro College in Toulouse – Presentation of the Green Vests
– Pierre de Fermat College in Toulouse – Presentation of the Climate Fresco
– Lycée Raymond Naves in Toulouse – Eco-delegate initiatives
12h-13h
Vegetarian lunch proposed under the tent of the MDE
1:15-2:00 pm
Conference by Roland Séférian "Carbon budget: an example of the application of scientific knowledge for the environmental transition
Roland Séférian is a climatologist at the Météo-France research center.
2:00-4:30 p.m.
Eco-responsible gestures and initiatives workshops
-DIY workshop proposed by Supaero 4 earth
-Workshop "Waste reduction" led by Toulouse Métropole
-Workshop "Low carbon" – (calculation of its carbon footprint) led by students from ISAE-SUPAERO
– Awareness workshop on the disappearance of bees
-Workshop "One, two, sort, Lo…go!" offered by the association Elémen'terre