Presentation of the ISAE-SUPAERO OSE program to the alumni
One month ago, on November 9, 2021 the ISAE-SUPAERO OSE team presented its actions to the ISAE-SUPAERO alumni. A way to discover the rich range of activities on offer and why not get involved with the Institute's equal opportunities program!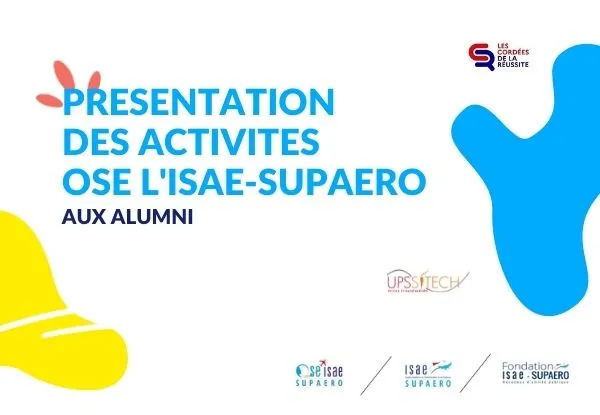 A VIDEOCONFERENCE MEETING ORGANIZED TO LEARN ABOUT THE VARIETY OF ACTIONS OF OSE L'ISAE-SUPAERO, WHICH WAS AWARDED THE CORDÉES DE LA RÉUSSITE LABEL IN 2009.
On November 9, 25 alumni were present, including 10 who did not know the activities of OSE ISAE-SUPAERO. A real way for the team to inform about the work done with the students of the partner schools, about the importance of the participation of the ISAE-SUPAERO students but also of the alumni. There are a number of ways to get involved by participating in some of the Equal Opportunity Program activities, such as tutoring.
At the end of the meeting, participants were given the opportunity to fill out a questionnaire in order to formulate how they would like to be involved in the actions with middle and high school students. 12 of them completed the questionnaire, including participating in tutoring.
Alumni, you were not able to participate on November 9?
Good news, a new session is planned for February, the exact date is to be confirmed. Stay informed through the website of

ISAE SUPAERO ENSICA Alumni website.