A meeting for scholarship students and their benefactors
On October 21, 2021, the ISAE-SUPAERO Foundation organized for the 5th consecutive year a meeting between the representatives of the sponsoring companies and the scholarship holders within the ISAE-SUPAERO campus. 30 international students, beneficiaries of scholarships for excellence granted in the framework of a chair or a specific program with the School, were present at this meeting.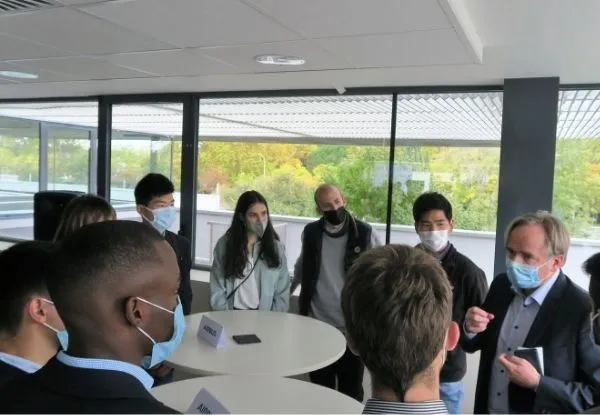 After a 2020 edition that was 100% digital, students and sponsor representatives were thrilled to finally be able to meet face to face in 2021.
A great opportunity for GIFAS, Airbus, MBDA, Thalès and the Foundation, to share a friendly moment and to exchange on the pathways of each of the international students in MSc and Engineering courses within ISAE-SUPAERO. Coming from 20 different nationalities, the scholarship holders were able to discuss their future plans.
5 representatives of the sponsoring companies were present
– Renaud Bellais, Institutional Advisor at MBDA,
– Philippe Benquet, VP R&T of the Thales-AVS GBU
– Jerome Noyer, Director of Human Resources and Communication at LIEBHERR-AEROSPACE, came as a representative of GIFAS,
– Pierre Passot, R&T Strategic partnerships France at AIRBUS and holder of the CEDAR Chair for the research part,
– Jean-Louis Marcé, Secretary of the ISAE-SUPAERO Foundation for the excellence scholarships it awards each year.
What is the ISAE-SUPAERO Excellence Scholarship Program?
This program was born with the aim of supporting the international attractiveness of ISAE-SUPAERO, by attracting and welcoming the best foreign students to the Institute. Once selected, the students receive a grant from the companies that have signed a chair with the Institute, allowing them to finance their training, in engineering or Master's degree. Thanks to the generosity of its donors, the ISAE-SUPAERO Foundation also awards each year its own scholarships for excellence to international students wishing to study at ISAE-SUPAERO.
In 2021, 40 students will receive a scholarship for excellence from corporate sponsors or the Foundation