A day in the framework of the Space Course with OSE ISAE-SUPAERO
This year, the Cordée OSE l'ISAE-SUPAERO is leading a Space Course for 150 secondary school students to discover this universe. This course takes place in 4 stages and it is on Thursday, March 29 that the 3rd stage "Get inspired" is held on the ISAE-SUPAERO campus.
Get inspired around the space domain
During an entire afternoon, high school students from partner schools will have the opportunity to participate in workshops to meet and exchange with professionals, students and doctoral candidates in the space field.
Objective of the day: To inspire high school and college students about the professions in the space industry.
A dozen professionals with different backgrounds were able to talk about their jobs in a speed dating format.
1:00 – 1:15 pm: Introduction of the afternoon
1:15 – 1:40 pm: Presentation of the students' activities, exchanges on their career and their activities related to Space within the school, meeting with the students of the MARS Club, Astro, Supaero Space Section, Tolosat (with students from INSA and ENSEEIHT as well) and Supaero Drone Section
13h40 – 14h00 : Presentation ofUNIVERSEH and exchanges with Ada Czesnakowska, R&T/D Space Systems Power and Energy Management Cluster Cordinator (AIRBUS) and Elizaveta Shashkova – Deputy Operational Project Manager (Beyond UNIVERSEH)
14h-14h30 : Mini-conference ofInès Belgacem, planetary scientist at ESA and sponsor of the OSE program at ISAE-SUPAERO, with a presentation and a question and answer session in the amphitheatre
2:30 – 4:00 pm: Speed-meeting workshop, forum format with quick exchanges with professionals – were present: Jean Kempf – Magnetized turbulence and dynamo effect in the intracluster medium (IRAP), Charles Yana – SEIS-InSight project manager (CNES), Loic Octavia, Responsible for the photo activity (CNES) Cécile Idoux, Thomas Claudet – Optimal Guidance Navigation & Control for Non-cooperative Flexible Spacecraft Rendezvous (ISAE-SUPAERO), Hugo BECUWE, Data Scientist (Thales Alenia Space), Florence Paulet-Tomczak, Engineer for the School (Thales Aliena Space), Sophie Laurens, Space Weather Engineer (CNES), Florian Roselli – Human Spaceflight Operation Engineer (CNES), Ludwika Laurens – WIRE EDITOR (Derichbourg), Ada Czesnakowska, R&T/D Space Systems Power and Energy Management Cluster Cordinator (AIRBUS), Thierry Paronneau, Engineer for the School (Airbus Defense & Space)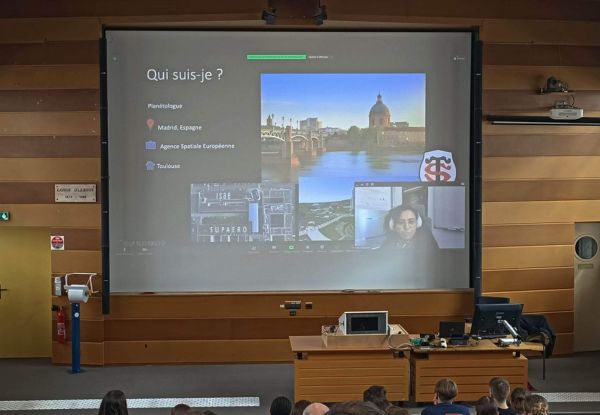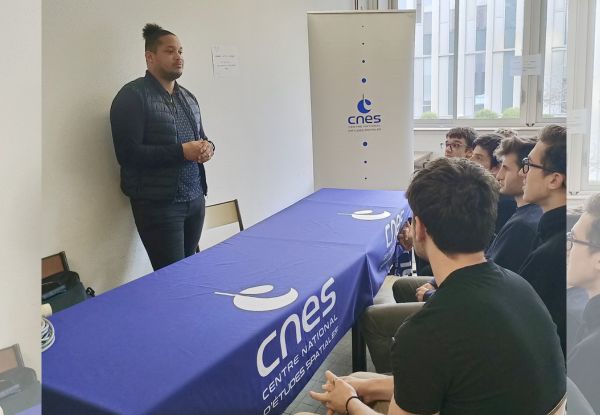 Focus on the space course
The Space Course is one of the 3 courses offered by the Cordée OSE of ISAE-SUPAERO.
It takes place in 4 stages: Discovering, Doing – these two steps are led by Club Mars students in the schools and finally Inspiring, Restoring. The Inspire time corresponds to the half-day of the space professions which was held on March 30.
The objectives of the space course are:
To create a privileged link between high school students and students of ISAE-SUPAERO
Develop the capacity for action and mobilization of schools
To discover science in a different way in order to introduce them to scientific careers and to limit their self-censorship in their orientation towards these fields.
Among the other courses, the one calledWomen's Campus Course
➡️ DISCOVER
Between December and January with an awareness intervention (1 to 2 hours)
General introduction to Space around the history of the conquest of space with an opening on the planet Mars and the missions of Martian simulation of the club M.D.R.S. of the school. This interactive presentation ends with a quiz.
➡️ DO
Between February and May
Two in-class interventions between 1 and 2 hours among the following
Animation around a vacuum bell: retrospective of the great moments of the conquest of space from a technical point of view, with live illustration of the physical phenomena brought into play by the vacuum of space.
Team role-playing: during a two-hour session, each team will represent a planetary system that must make the right choices to bring life to its surface.
➡️ INSPIRED
Thursday, March 30th
Day of the space professions at ISAE-SUPAERO
Meeting of professions related to space, exchanges, workshops.
➡️ RESTITUTER
In June
Restitution event during a half-day at the Cité de l'Espace
Find out very soon the other courses set up by OSE ISAE-SUPAERO!
I support the ISAE-SUPAERO OSE Program